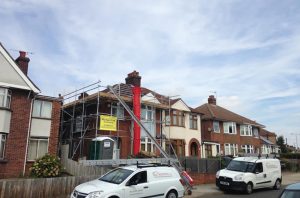 Our team in Braintree specialises in all types of flat roofing including rubber board/rubber membrane, zinc, copper, and felt roofing.
Also, we offer a clean and modern copper or zinc flat roof which has a lifespan of up to 25 years, saving you having to repair yours constantly.
There are so many benefits in using these two materials such as versatility, aesthetically pleasing, durable, and extremely long-lasting.
Here at ELC Braintree, the best prices are always guaranteed.
Our team uses their expertise and works will high-quality materials to provide you with a new flat roof that should last over 15 years to avoid any repairs in the near future.
Lead Roofing in Braintree
At ELC Roofing our tradesmen are fully skilled in bossing and lead burning (welding), and our high-quality work will guarantee you an aesthetically pleasing and highly durable roof.